euregio+
Much more than a management company
We are an asset management company, owned by the Autonomous Provinces of Trento and Bolzano, and the public Pensplan Centrum company. We operate in the financial sector, pension fund management, real estate, private debts, private equities, and venture capital.
We are specialized in making economically sustainable projects for the territorial development and we grant support to local entrepreneurship through qualified professional advice with the participation of public and private investors.
We are the reference partners of public and private investors who support the uniqueness of our territory.We offer innovative financial solutions to promote real estate and infrastructure development projects and growth of the local economic texture.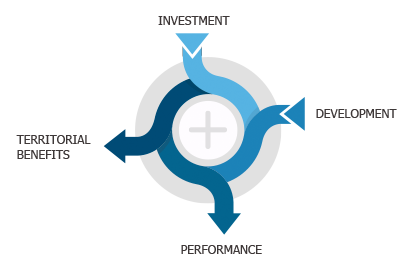 We wish to contribute to the improvement of our economic and financial ecosystem in a responsible way to meet the needs of our community, to support the growth of businesses, and to increase the attractiveness of the area.
INNOVATION
It is the approach of our company that drives projects, investments, and services: a way of thinking, operating, and doing business.
REPORT
We encourage a worthy collaboration between the various shareholders in the area.
PROFESSIONALISM
We are constantly striving to build and consolidate trust.
SUSTAINABILITY
We assess and implement ambitious, financially sustainable projects.
PASSION
We are passionate in generating value for our territory and our investors.