About
The Italian private equity reserved AIF (Alternative Investment Fund), established in closed form and called the "Euregio+ PMI Green Economy" is managed by Euregio Plus SGR S.p.A.
The Fund is an Italian mutual investment fund, falling within the scope of Directive 2011/61/EU, a reserved Italian AIF as defined by art. 1, para. 1, letter m-quater of Legislative Decree no. 58 of 24 February 1998 (the Testo Unico della Finanza [TUF or "Consolidated Finance Law"]). The fund's assets are invested to no less than 90% of the value of the assets, including the commitments of the participants in tax credits, including tax deductions, among others:
tax credits, including tax deductions (the so-called "superbonus 110%") governed by articles 119 and 121 of Decree Law no. 34 of 19 May 2020, implemented in law, with amendments, by Law no. 77 of 17 July 2020 with subsequent amendments and/or additions, concerning incentives for building renovation, refurbishment or restoration of building façades, energy improvements, reduction of seismic risk, installation of solar photovoltaic systems and infrastructures for charging electric vehicles, as referred to in para. 1.2 of the Decree by the Director of the Revenue Agency of 8 August 2020, Prot. no. 283847/2020;
tax credits other than those provided for under point 1., transferable to the Fund in accordance with the laws and regulations applicable to the various types of taxes.
The Typical Investment is aimed at credits transferred, directly or indirectly, by persons resident in or attributable to the territory of the Region of Trentino-Alto Adige. The duration of the Fund is set at 10 (ten) years starting from the closing date (even if partial) for subscriptions relating to the first issue of Units, to mature on 31 December at the end of the tenth year, except in cases of early liquidation of the Fund pursuant to article 27 or an extension of the duration of the Fund, subject to amendment of the Regulations.
Link to Superbonus
Link to platform for accrual of tax credit
Link to auctions for purchase of tax credits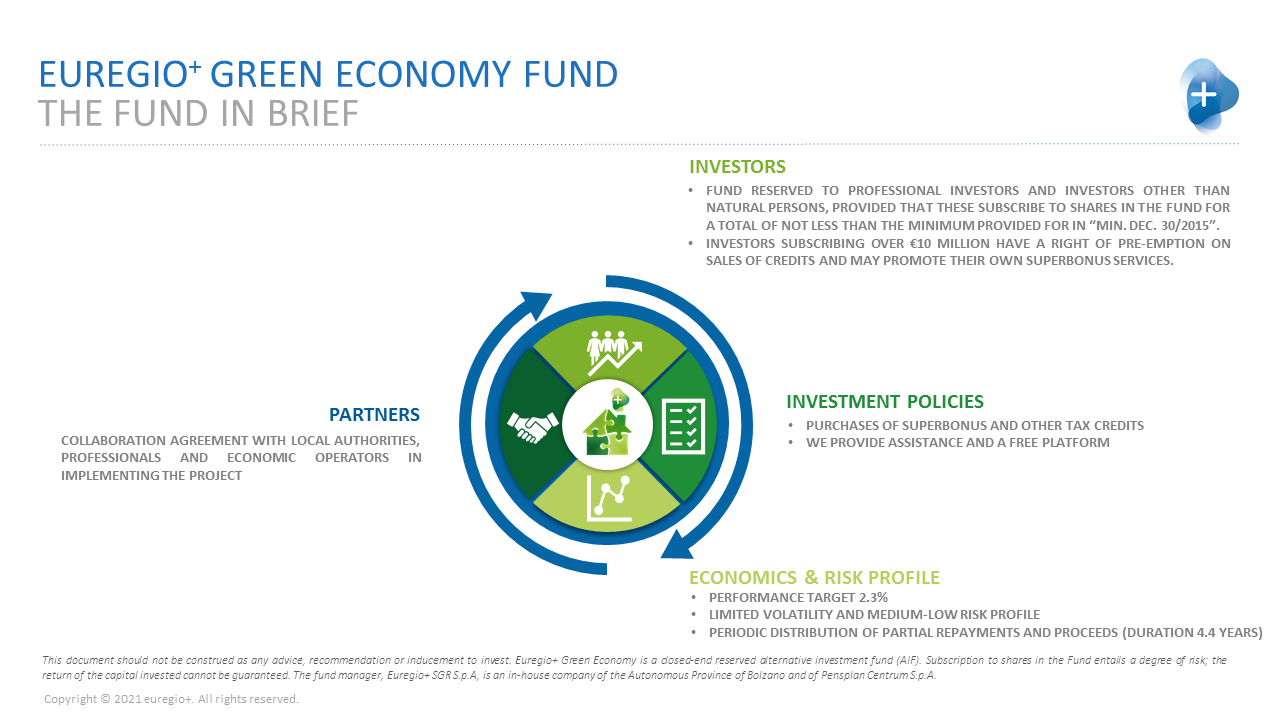 Type of investor
Units in the Fund ("Units") may be subscribed to or purchased solely by, and may subsequently circulate solely among, participants from one of the following categories:
professional investors pursuant to art. 6, paras 2-quinquies and 2-sexies of the TUF, who must, in accordance with the legislation in force at that time, declare and prove that they belong to said categories ("Professional Investors");
participants who are neither Professional Investors nor natural persons, provided that they subscribe to (or purchase) Units in the Fund for a total not less than the minimum amount set out by Decree no. 30 of the Minister of Economy and Finance of 5 March 2015 ("Ministerial Decree 30/2015") in force at the time in question.